The Trade Union Solidarity Centre of Finland SASK is the solidarity and development cooperation organization of Finnish trade unions.
SASK is the development cooperation organisation of the Finnish trade union movement. Our aim is to promote decent work and living wages for everyone. We support the reduction of poverty and inequality by strengthening the trade union movement and the position of workers in developing countries.
With decent work, we mean that people should have access to regulated, safe and healthy work which guarantees a living wage or sufficient livelihood. As far as the core labour standards are concerned we refer to ILO.
ILO Core Labour Standards include (1) freedom of association and the right to collective bargaining, (2) elimination of forced labour, (3) effective abolition of child labour and (4) elimination of discrimination in respect of employment and occupation.
Where we work
SASK has dozens of development cooperation projects in
South and Southeast Asia
Southern Africa
Latin America.
Our partners are usually Global Union Federations and trade unions.
How we work
SASK supports the UN sustainable development goals of eliminating absolute poverty and reducing relative poverty globally. Relative poverty can be reduced through collective agreements and social policies that enable the working population to gain their share of national development and wealth. Poverty and inequality are also reduced by promoting social inclusion and increasing people's opportunities to take an active part in social processes.
Trade unionism is a sustainable tool for improving the opportunities of the working population to influence social policies and to reduce inequality. That is why SASK works with the trade union movement and research and training organisations that support its goals.
SASK was founded by the Central Organization of Finnish Trade Unions SAK and its affiliated unions in 1986. Since then, SASK has become a widely representative solidarity body of the Finnish trade union movement with two central organisations and 36 national federations as affiliated members.
Need our logo?
You can download SASK logos here. A zip file contains logos in different formats.
---
Contact us
Trade Union Solidarity Centre of Finland SASK
Address: Hämeentie 19 A, 00500 Helsinki, Finland
Janne Ronkainen
Executive Director
+358 40 776 8557
janne.ronkainen@sask.fi
International operations
Juha Vauhkonen
Head of International Operations
Labour Rights
ILO Conventions
+358 45 139 7119
juha.vauhkonen@sask.fi
Tarja Valtonen
International Operations Specialist
Gender equality
Non-discrimination
+358 40 541 0107
tarja.valtonen@sask.fi
Anna Perttula
International Operations Specialist
Just Transition
+358 40 541 6155
anna.perttula@sask.fi
Camilla Lohenoja
International Operations Specialist
Digitalisation and New Forms of Work
+358 45 206 6840
camilla.lohenoja@sask.fi
Milla Leppänen
Digitisation Project
+358 50 4839984
milla.leppanen@sask.fi 
Regional Representatives
Simião Simbine
Regional Representative, Africa
Maputo, Mozambique
+258 82 3008534
simiao.simbine@sask.fi
Address
Rua da Imprensa, 256 – Sobrelojano 5, Predio 33 andares Maputo, Moçambique
Manoranjan Pegu
Regional Representative, South Asia
New Delhi, India
+91 8800 492125
manoranjan.pegu@sask.fi
Patricio Sambonino Rivera
Regional Representative, Latin America
Quito, Ecuador
+593 9974 74408
patricio.sambonino@sask.fi
Farizan Fajari
Regional Representative, Southeast Asia
Jakarta, Indonesia
farizan.fajari@sask.fi 
Aiheeseen liittyvää

Job opening at SASK: Regional Coordinator for Southeast Asia
Trade Union Solidarity Centre of Finland (SASK) invites applications for employment from all interested and qualified candidates for the position of:  POSITION: Regional Coordinator for Southeast Asia  OPENING DATE: September 7, 2020  CLOSING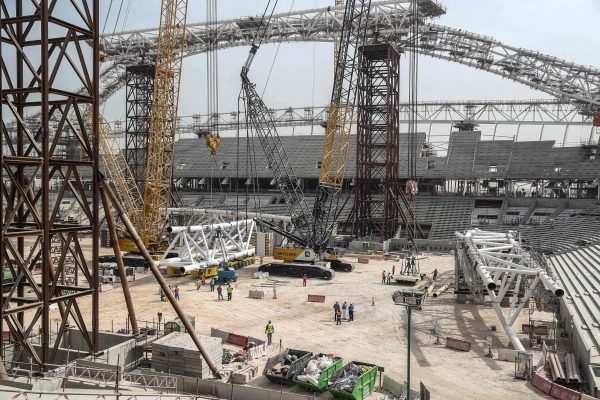 Kafala murenee hitaasti, ja MM-kisojen isäntämaan ihmisoikeusongelmiin otetaan kantaa urheilupiireissäkin
Edistystä on, että Qatarin stadionien rakennustyömailla työskenteleville on helpompaa vaihtaa työnantajaa. Ilmapiiri muuttuu urheilussakin, ja Suomi voisi olla tässä myös potkimassa eikä vain katsella kentän
Qué es SASK?
El Centro de Solidaridad Sindical de Finlandia SASK es una organización de cooperación para el desarrollo y solidaridad del movimiento sindical finlandés.